Instructions
Updates (Nov. 7): "PPT/pdf" -> "PPT/pdf" for file upload to Whova.
Session Operational Policies for Oral Sessions
1. We, organizers, would like to give top priority to live discussions at this meeting. Thus, the oral presenters use the speaker's screen share.
2. On the other hand, measures to ensure stable operation under the restriction of virtual conference are essential,
(1) All Oral presenters are requested to upload at least their backup slides to Whova until Nov. 13 as a measure of network troubles. The upload link on Whova will be notified on Nov. 1 by email to each presenter from MT27 Program Committee <event-noreply@whova.io>. If you don't receive the email, please contact organizer, <mt27program@csj.or.jp>. Please check your email filter also.
(2) On-site Oral presenters can upload and/or check their presentation file at PC preview center on the 4th floor (room 402 & 403) of the venue. Please do so until previous date of the presentation.
(3) Remote Oral presenters are requested to check their network condition and equipment in advance at Remote Speaker Test Site.
(4) Since we will set a time for rehearsals about 30 minutes before each session begins, the speaker should definitely follow the instructions and participate in the rehearsals (mandatory).
(5) All the participants are requested to cooperate to keep the session schedule in order to secure the time for the rehearsal for the speakers of each session.
Thank you for your cooperation.
MT27 organization team
Conference Format a Glance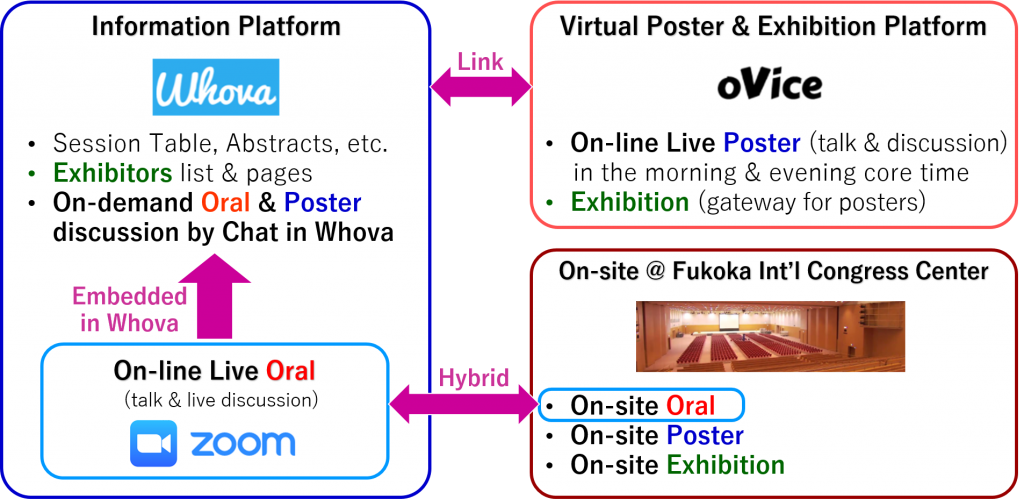 We will announce the details on the platforms later, but please refer to the following websites if you are interested.
– Whova official website: https://whova.com/
– oVice official website: https://ovice.in/
Demonstration Space for Online Poster Presentation is available now. Please refer to the page for Presentation Instruction for Poster Presenters.
Summary of Participants' Duties
All participants
(other than presenters)
Oral presenter
(on-Site participant)
Oral presenter
(on-Line participant)
Poster presenter
(on-Site participant)
Poster presenter
(on-Line participant)
Registration for MT27
Required
Required


(deadline: Nov. 1)

Required


(deadline: Nov. 1)

Required


(deadline: Nov. 1)

Required


(deadline: Nov. 1)

Membership registration / App installation for Whova
Required
Required
Required
Required
Required
Membership registration for oVice
Required
Required
Required
Required
Required
Installation of Zoom
Required
(latest ver.)
Required
(latest ver.)
Required
(latest ver.)
Required
(latest ver.)
Required
(latest ver.)
Materials upload to Whova
N/A
PDF/PPT required


(deadline: Nov. 13)

PDF/PPT required


(deadline: Nov. 13)

PDF required


(deadline: Nov. 8)

PDF required


(deadline: Nov. 8)

Pre-recorded video upload to Whova
N/A
Recommended
Recommended
Optional
Optional
Network condition & equipment check at Remote Speaker Test Site
N/A
N/A
Required
N/A
N/A
Presentation file upload/check at PC Preview Room (Room 402 & 403)
N/A
Recommended
N/A
N/A
N/A
Materials upload to oVice
N/A
N/A
N/A
Not required
(The link to the material on Whova will be prepared by MT27 staffs.)
Not required
(The link to the material on Whova will be prepared by MT27 staffs.)
Poster (A0 horizontal) display on-site
N/A
N/A
N/A
Required
N/A
Manuscript submission
N/A
Applicable
(Registration code and the presentation are required.)
Applicable
(Registration code and the presentation are required.)
Applicable
(Registration code and the presentation are required.)
Applicable
(Registration code and the presentation are required.)
Accessories
Zoom Virtual Background: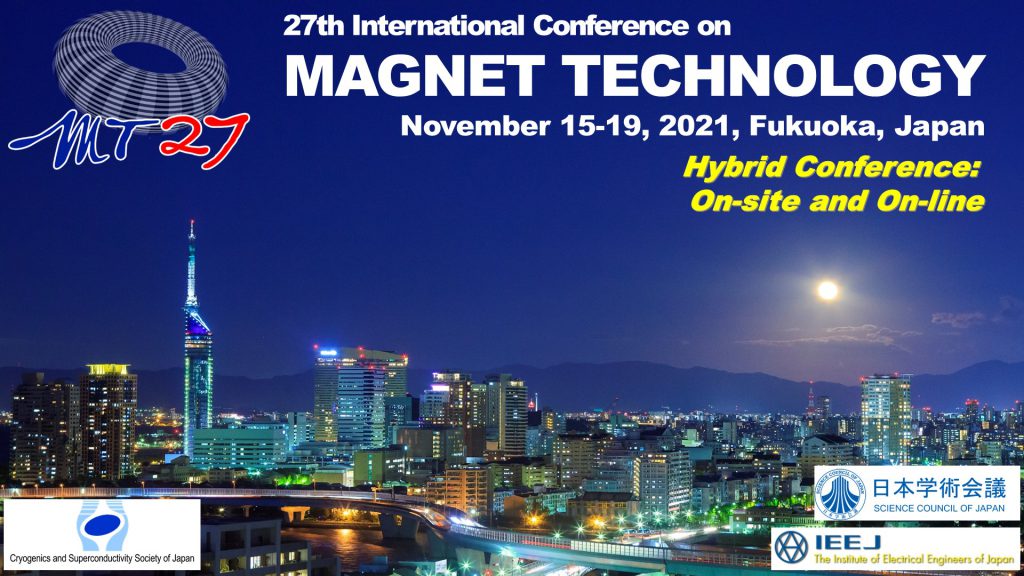 Banner:

Logo: